Transistor Radios for Sale
All have been repaired, fully tested ,aligned and played many hours to assure reliability and carry a 1 year warranty.
S&H is $15.00 for the small hand size transistors, ask about the bigger radios.
If interested in any of the radios below, copy and paste my e-mail address into your mail program and provide the following information:
Your name and zip code
Make and model of radio.
---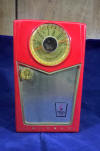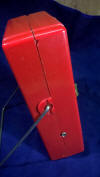 1960 Emerson
"Atlas", Model 888, AM, 4 "AA" batteries.6.5" Tall, 4" Wide, 2" Deep. Upper round tuning dial, left volume knob, lower line patterned grill, swing handle. A nice radio, some chips missing in plastic case (see pictures), small dent in upper right part of the speaker grill, otherwise it works great. $75
---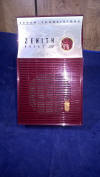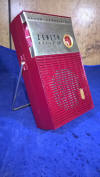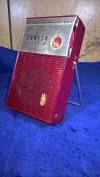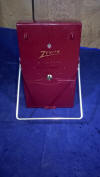 1958 Zenith
Royal 300. AM, 4 AA
batteries, 4" Wide, 6" Tall, 11/2" Deep. Upper right round porthole tuning, left side thumbwheel volume, lower horizontal grill bars with lower right crest, plastic case with a swing handle. Case shows some wear but is in good condition, no cracks or chips. Radio works and sounds great. $75
---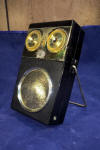 1960 Zenith
Royal 500E-1 AM, 4AA Batteries, 4" Wide, 6" Tall, 11/2 " Deep. Upper "owl eyes" tuning, lower round perforated chrome grille, swing handle, "Royal 500 Long Distance" on chrome plate with crest. This radio has been well used. Chrome plating around 'owl eyes" is worn as is a spot below the crest. The round speaker chrome grill is dented and has a small slit in the middle which is hard to see. The plastic case shows wear but is complete without any missing chips or cracks. The radio itself works great. These Royal 500's are my favorites. A great radio. $65
---




1963 Channel Master
Model 6505, AM, 4 AA batteries, 6" Wide, 3" Tall, 2" Deep. Right square dial, 2 lower knobs, table style, left perforated chrome plastic grille. Radio was actually made by Panasonic. Plastic radio case is missing a piece on the upper right side by the back cover. Case does show wear, not bad though. Works great. $55
---
1960's Epic Model EP61, AM, 9 volt battery. A nice little off brand shirt pocket radio that works well. Leather case shows wear and is torn a bit as shown in the 2nd picture. Plastic radio case has a chip missing in the upper left hand corner by the back cover. Otherwise, works well. $55
---
1962 GE Model P808B, AM, 9 volt battery. 7" Wide, 5" Tall, 2" Deep. Right large round dial, left thumbwheel volume, left gold grille cloth, top handle. Plastic radio case is in pretty good condition, shows some wear. Has plenty of volume with nice sound. $65
---
1960's Best Tone, no model number, AM, 9 Volt battery. A well used shirt pocket radio - judging by the condition of the case. Leather case is still in one piece, plastic radio case is ok also. This radios performance is one of the best. Good sound and reception. $65
---
1961 Americana Model FC60, AM 9 Volt battery. Right side peephole dial, right side thumb-wheel volume, lower perforated chrome grille. Missing small chip of plastic on the bottom, light scratches on the back cover, otherwise in good condition. Good performing radio with good sound and reception. $65.
---
1962 Universal Model PTR-62B, AM, 9 Volt battery, 41/4" Tall, 3" Wide, 1" Deep. Upper dual thumbwheels in cutout area, lower perforated chrome grille. Leather carrying case shows some wear, plastic radio case has a nick on left side at the bottom, works good, nice radio. $65
---
1968 Sony Model 2R-28, AM, 2ea AA Batteries, 33/4" Tall, 21/2" Wide, 1" Deep. A small transistor radio with leather carrying case. Both leather case and transistor in good condition. Plays well, nice radio. $65
---
1971 Sony Model TFM-3950W, AM/FM/Weather. 9 Volts, 4" Wide, 4" Tall, 1.5" Deep. Polished chrome case. A nice all around radio with good sound with plenty of volume. $55.00
---
1965 General Electric Model P-1818D, AM/FM, 9 volt battery. 5" Tall, 7" Wide, 21/2" Deep. 10 Transistors, Upper right front round two-band dial, lower AM/FM switch, horizontal grill bars, fold-down handle. Static sounds while tuning AM, otherwise works great, plenty of volume. $65.00
---
1974 Panasonic Model Rf-511, AM, 9 volt battery, nice looking radio with ear phone. sounds great. $65.00
---
1970 Sanyo Model RP-1250, AM, 2ea "AA" batteries, case shows a lot of wear, plastic on dial is a little foggy, radio works great. $65.00
---
1970 Channel Master Model 6229 AM/FM, 9 volt battery, Works Great. $35.00
---
1970 Realistic Model 12-634, AM/FM, 9 volt battery, works good. $45.00
---
Viscount Model 832, AM, 9 volt battery, 2" Wide, 4.5" Tall, 1.25" Deep. Case shows some wear, radio has good reception and sound. $65.00
---
1959 GE Model P-808A, AM 9 volts, 43/4" Tall, 7" Wide, 21/4" Deep. Upper right front round dial knob, left thumbwheel, on/off/volume knob, woven grill area, pull-up handle. Great condition, no chips, works great. $65.00
---
1959 Admiral Model Y2127, AM, 6 "AA" cells, 51/4" Tall, 9" Wide, 21/2" Deep. Tahiti an leather, eight transistors, right front round dial, left horizontal grill bars with on/off/volume knob, crown logo, leather handle. Leather case shows some wear but not bad for its age. Radio has good reception and sound; a great baseball radio. $55.00
---
1963 Sony, Model TR-752, AM, 3 "C" Cells, 7" Wide, 4" Tall, 2" Deep. Volume Control on left side, tuning on right, tone switch front bottom right, red Light button top left. Big speaker sound with plenty of volume and sounds great too! Some light scratches on dial plate, works great. $40.00
---
1963 GE Transistor, Model P-880B. AM, AC or "D" Cells. 10' Wide, 7" High, 3" Deep. Front louvered plastic grill, right and left side knobs, top handle, white. A nice Looking and sounding radio. $75.00
---
---